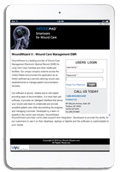 WoundWizard®
Our Specialty: Wound Care Software. If you are a facility or business managing wounds and looking for a system with great documentation, outcome reporting and an easy-to-use interface, then look to our WoundEMR™ line of electronic medical record software. Our flagship product, WoundWizard®, provides your total wound care solutions management program. It is ideal for Long Term Care Facilities, Hospitals, Wound Care Centers and healthcare facilities. WoundPad® is ideal for use on tablet devices and smartphones.
In the Cloud and Secure - Access Your Information Anywhere 24/7
Developed and used by wound care and healthcare providers across the country since 2008, our WoundWizard® secure web based application uses a Software as a Service (SAAS) model, giving you greater flexibility in managing your patient documentation in real time.

The intelligent and intuitive interface is easy to use and allows your wound care team the ability to collaborate and provide excellent patient care, while documenting the progress of and managing wound outcomes. Customized and real time reports include everything from wound care management to client billing and demographics. The 3D wound models make it easy to create and view wound sites.
Testimonials
"WoundWizard® has proven to be a great mobile system for me to document wound care course of treatments for my patients on my iPad while rounding."
"Entering data is quick and straight forward and the ability to add wound photographs greatly enhances documentation, educational activities, and interest to the treatment note."
Willard J. Ingram, MD, FACS, FAPWH.c
"WoundWizard's risk management system has not only been wonderful for tracking treatment wound parameters but has also been instrumental in wound prevention."
Julie Vogt, R.N.
"The WoundWizard® program captures the required documented patient treatment wound data allowing us to code and bill at the highest possible levels while remaining compliant. The system is easy to navigate and operates on real time which affords us to process and expedite claims."
Jorge Zavala, Billing Director, TAT Billing Services
"WoundWizard's detailed wound closure reports have allowed us to closely evaluate wound product efficacy and recommend the best treatment pathway for our patients. A first."
Christoforos Papaharalambus, MD
Director of Clinical Research, Piedmont Heart Institute, Atlanta, GA
"We find the WoundWizard® system to be a valuable tool for medical record compliance and quality assurance."
Maria Sotto, HIM & Credentialing Manager, Select Specialty Hospital - Atlanta, GA
"Our clinical staff has direct access to WoundWizard® patient treatment notes and it proves to be extremely helpful for quality assurance, especially during State Surveys."
Linda Taetz, MN, RN, Sr. VP, Compliance Officer, Mariner Health Care