Outcome Reporting with Charts
Outcome reporting is a major function of our web based wound management software. It can track and report all types of wounds by location, facility, its improvement on a day to day basis, the medication or types of treatment that improves the wound and so on. The reporting can be done for your facility or separately for your physicians, your nurses or other practitioners. It can be customized for a patient, a location or the facility. The intuitive algorithm that runs behind the software is built to be knowledgeable and allow you to further data mine into reports for more information.

Wound Wizard has a large number of reporting capabilities revolving around its ability to capture information added into its software. We have several canned reports (listed below), which are available to every client. Due to fact that requirements are different for every practice, we have developed our intuitive software to handle multiple points of data and come up with customized reports. Most reports can be made available to you in 2 weeks or less.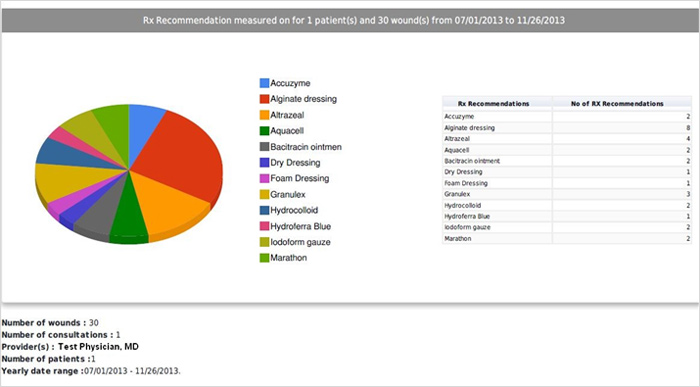 The reports can be exported or viewed in multiple formats such as pdf's, pie charts, tables and additional formats. Below we have listed some of the main reports that are readily available. There are many different reporting features you can use and we look forward to going through them with you during our demonstration.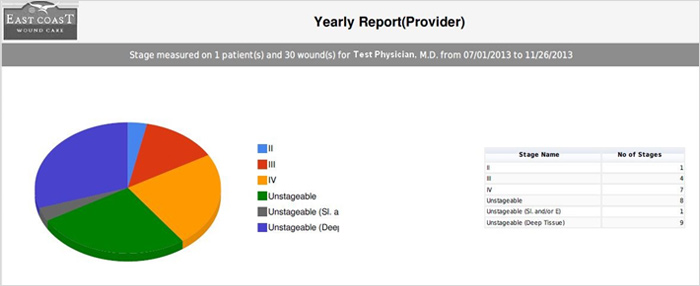 Physician Reports:
Average Consultations (Providers)
Debridement Vs. Provider Vs. Diagnostic
Debridement-Report (Provider)
Discharge Report (Provider)
Etiology Pressure (Provider)
Monthly Report (Provider)
Number of Wounds by Stage (Provider)
Present on admission vs. In-House acquired (Provider)
Pressure Stage (Provider)
Provider Consultations
Rx Recommendations (Provider)
Stage (Provider)
Support Equipment Against Wound Closure (Provider)
Worsening Wound Report
Wound Closure Trend (Provider)
Yearly Report (Provider)
Nursing Reports:
Daily Monitoring Ulcer Report
Initial Visit-Nursing Report
Non Pressure Ulcer Log
Present on admission vs. In-house acquired (Facility)
Pressure Ulcer Log
Support Equipment Against Wound Closure (Facility)
Ulcer Report – Facility
Weekly Ulcer Monitoring Report
Weekly Wound Report
Wound Closure Trend (Facility)
Daily Monitoring Ulcer Report
Initial Visit-Nursing Report
Non Pressure Ulcer Log