WoundPad
WoundPad is the same feature-rich WoundWizard® software for use on tablet devices and smartphones. The software technology has been innovatively developed to ensure responsive usage on iPads, Androids and Microsoft surface. It comprises a Nursing Module, a Physician Module and Outcome Reporting that facilitate quick and efficient management of all levels of wound care. You can securely access WoundPad the web based WoundWizard® software on your tablet or mobile device from anywhere in the country or around the world.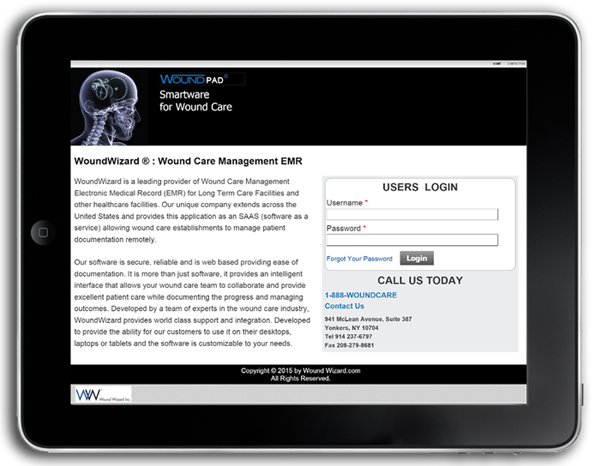 Effective Communication with Increased Mobility
With WoundPad, physicians and nurses can access, review and update patient records in real-time, right from the bedside. It allows care providers to view wound images, access wound status updates, prescribe drugs and perform other crucial tasks. With enhanced communication among team members, a more comprehensive and systematic approach is possible for chronic wound management. With quick access to patients' records, the software can also provide substantial time savings so that physicians and nurses can spend more time with patients and help generate better outcomes.
Features
WoundPad incorporates all imaging analysis and documentation capture aspects of a wound EMR, and is customized for small screens and enhanced mobility. Here are the major features.
If you have an internet connection you can access WoundPad using your tablet or mobile device.
Provision for taking photographs of wounds using mobile devices and upload them into patients' electronic records for future reference. With the patient's consent, these images can be sent to wound care specialists or the patient's physician for tracking progress or deterioration.
User-friendly interface to enter a new patient record, view an existing patient record, enter and assess new wounds on patients and review existing wounds quickly.
Remote access and evaluation of patient's records.
The software allows printing the patient's records from mobile devices.
To learn more about WoundPad features, contact us via e-mail and we can provide you with relevant details ASAP.