Wound EMR for Effective Wound Care Management at Skilled Nursing Facilities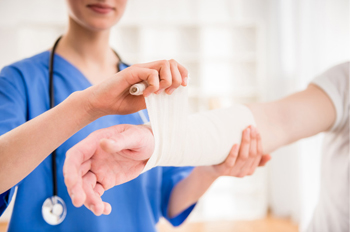 Though the success rates in healing advanced wounds at skilled nursing facilities (SNFs) is high, pressure ulcers, neuropathic ulcers, and chronic wound conditions pose a continuous challenge in these facilities. Facilities that stick to the basics of pressure ulcer prevention have only proven their ability to reduce facility-acquired pressure ulcers. The major focus of SNFs is to reduce avoidable re-hospitalizations. When it comes to wound management, pressure ulcer prevention is not enough to reduce re-hospitalizations, but healing and/or effectively managing existing community-acquired pressure ulcers, neuropathic ulcers, chronic wounds, and even surgical incisions is essential. By utilizing a wound specialty EMR for data collection and assessment, SNFs can enhance their wound care management capabilities.
Major Benefits
Faster Accessibility to Wound Care Reports – Wound EMR contains wound-specific templates that allow nurses to enter each patient's medication list, advance directives and progress notes, reports and other wound care information. The electronic record system also allows SNF staffs to generate wound assessment reports, treatment reports and copies of physicians' orders from the information entered. Since the system contains reports related only to wound care as compared to general EMR that contains a variety of reports, physicians and nurses can quickly access the reports they want in times of need. This would speed up the wound care process.
Customizable Alerts – With customizable alerts, nurses can pay attention to residents' wound statuses and take prompt clinical actions quickly. Wound healing rates can be substantially increased with this facility.
Ability to Add Photographs – Nurses can upload photographs into the EMR system to show the progress of treatment to doctors. This will not only improve the quality of treatment, but also show current and potential resident families that SNF staff members care for patients and provide quality treatment.
Quality and Integrity – Documenting wound care details using wound EMR standardizes the clinical data and thereby improves the quality of documentation. Such reliable data ensures regulatory compliance and helps reduce the risk of lawsuits. This will also reduce wound risk.
The increased efficiency that comes from using wound care EMR gives SNF staff members more time to focus on care delivery. This also supports them in the medical decision-making process. All these benefits lead to increasing referrals from hospitals and recommendations from families, and enhanced revenue. The electronic record system also helps control ancillary costs through reports of the ordering and use of supplies.
Wound EMR with a physician and nurse interface can further expedite the wound care data exchange within SNFs. Mobile-based specialty wound care EMR for smartphones and tablets allow nurses to treat SNF residents at their bedside with a high level of medical judgment, timely debridement and the appropriate use of dressings.