Study Finds that Vitamin D May Help in the Healing of Burn Wounds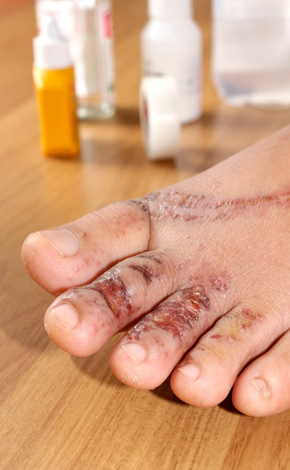 A study conducted by researchers at the Institute of Inflammation and Aging in Birmingham, U.K and presented at the Society of Endocrinology's annual conference in Harrogate found that vitamin D could not only promote the healing of diabetic foot ulcers but also help in the healing of burn wounds. The research team also suggests that giving vitamin D supplements to severely burned patients could be a simple and cost-effective treatment to not only help their wound heal but also prevent infection. A previous study had found that leg ulcer patients who were given vitamin D supplements saw a decrease in the size of their ulcers. Another study concluded that vitamin D helped in the formation of the permeability barrier that protects against fluid loss and infection. In fact, vitamin D is known to have antibacterial actions and is able to increase the antibacterial proteins and provide an environment that can kill a variety of bacteria. Timely management of diabetic foot ulcers and burn injuries is crucial to prevent serious complications. Wound management includes wound assessment and documentation. Upon admission, healthcare providers should assess the wound accurately and document it to develop a suitable wound care plan. Wound EMR helps healthcare providers to complete the documentation task quickly, and with minimal error.
To investigate the effect of vitamin D in burn wound treatment, the scientists Professor Janet Lord and Dr Khaled Al-Tarrah, at the Institute of Inflammation and Aging in Birmingham, monitored the recovery of 38 severely burned patients and their vitamin D level over the course of a year. The outcome was that patients with higher levels of vitamin D had a better prognosis with improved wound healing, less complications and minimal scarring. Researchers also found that the burn patients tend to have lower levels of vitamin D than healthy people. Giving vitamin D supplementation immediately after the burn injury may have major health benefits for the patient including increased antimicrobial activity to prevent infection and improved wound healing.
Professor Janet Lord said that "Low vitamin D levels were associated with worse outcomes in burn patients including life-threatening infections, mortality, and delayed wound healing. It was also associated with worse scarring but vitamin D levels are something generally overlooked by clinicians." Scientists are now focused on finding out why there is a rapid loss of vitamin D in patients immediately following burn injury. However, the decline in vitamin D levels is not related to the severity of the burn, so vitamin D levels are likely to decrease in more minor burn injuries as well.
Before deciding on the treatment for burn wounds, healthcare providers should initially assess and document the wound. With woundcare EHR, healthcare providers can document the burn wound clearly, concisely and legibly.