Study Finds that Low Intensity Exercises Could Accelerate Healing of Diabetic Wounds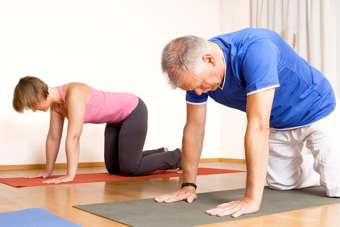 Recent research found that low-intensity exercises including walking, swimming, biking, step aerobics, or yoga can help heal diabetic wounds faster. Researchers even suggested that healthcare professionals should recommend these low-intensity exercises as part of wound healing regimens in diabetic patients. However, exhaustive or high intensity exercise may not help heal the wounds, as these types of workouts can cause stress. On the other hand, light exercises help reduce the blood glucose and increase insulin sensitivity to help with faster healing.
For the study, the researchers conducted experiments on twenty-one 10-week-old, female diabetic mice. These mice were wounded on their upper back with a 3.5-mm punch biopsy instrument and these wounds were photographed at the same time every day.The researchers randomly assigned these mice to a sedentary control group (CON), low-intensity treadmill exercise (LEX) group, or high-intensity treadmill exercise (HEX) group. These mice exercised for 30 minutes, 5 days per week, for 3 weeks. The outcome was that the CON mice healed in an average of 14.4 ± 2.4 days (number of days to decrease to less than 10% of their original size ± standard deviation), HEX mice in 14.0 ± 3.0 days (P = .396) and LEX mice healed faster than CON in an average of 10.1 ± 2.3 days (P = .004).
When a patient has diabetes, even a mild cut in the skin can turn into a serious wound. Healthcare providers offer several preventive measures including protective shoes, healthy diet and regular exercise. They provide instructions regarding maintaining proper hygiene and wound care to help stop the wounds from becoming chronic. In fact, regular inspection of wounds to track healing progress is also very important to prevent the wound from progressing to chronic state.
In some cases, surgical debridement may be required to improve the blood flow and supply of nutrients to the wound. Sometimes nurses or clinical staff team members need to document a debridement while working with the patient's physician. The physician will review these notes to determine the best treatment plan for the patient. Wound care software for nurses can be used in hospitals to facilitate documentation.
In 2016, the American Diabetes Association issued new guidelines on physical activity and exercise for people with diabetes and prediabetes, which recommends that everyone with diabetes, particularly those who have type 2 diabetes, should do three or more minutes of light activity, such as walking, leg extensions or overhead arm stretches, every 30 minutes during prolonged sedentary activities, avoid prolonged sitting which includes sitting at a desk on the computer, sitting in a meeting or watching TV and make it a goal to exercise daily for improved blood sugar management. The guidelines also recommend that people with prediabetes should combine physical activity and healthy lifestyle changes to delay or prevent a type 2 diabetes diagnosis. In fact, regular physical activity helps lower blood pressure and glucose, boost energy levels and improve balance to prevent potential injury from falls. Likewise, with Wound EMR, healthcare providers can document wounds quickly and accurately.
Earlier studies have found that exercising can help diabetic wounds heal, but did not specify how type or intensity can affect healing. Many studies and reviews have found that multidisciplinary approaches including physical therapy and rehabilitation methods can be most effective in treating diabetic foot wounds.