Smart Bandages that Track Wound Progress to Begin Trial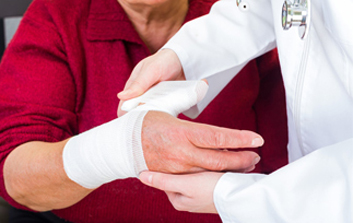 Often patients with wounds are advised to return to the doctor within a certain amount of time. However, depending on the type of wound, it may take a longer time to heal or some others would have become infected before the patient's visit. Now, technology can change the wound care trends. Scientists at Swansea University have designed a new "intelligent" bandage that can detect how well a wound is healing and send a progress report to the doctor.
This bandage uses real-time 5G technology to monitor what treatment is needed and also keep track of a patient's activity levels. Their nano-technology sensors allow for customized treatment, and can detect issues such as infection in the wound. 5G wireless data will be used to instantly transmit information about your health to your doctor, thus allowing physicians to provide customized health care recommendations.
With this advanced solution, clinicians can understand the performance of a specific wound at any specific time. It would also help physicians to customize treatment based on the progress of the wound, the patient's location and activity. 3D printers would be used to fabricate the bandages in an affordable manner. It has been announced that the researchers will begin trials within the next twelve months.
Prof. Marc Clement, chairman of the university's Institute of Life Science (ILS) says, "This is a multi-technology approach, with nanotechnology, nanoelectronics, printing and coating biochemistry all interconnecting through 5G infrastructure to allow us tomorrow and in the future to deliver health care for a wound patient that delivers better patient outcomes and better quality of life."
However, this is not the first smart bandage of its kind. Clinical trials have already begun on a bandage that turns yellow when the wound becomes infected. While such innovations assist in faster wound healing, documentation of the wound conditions can also be done much faster using advanced EMR solutions. Now wound EMR that combines HL7 compliance, real time reporting, 3D models, and the ability to do coding are providing physicians with a powerful software program to better serve their patients. Such software can be accessed from any computer, tablet or mobile device and is customizable to the clinic's needs.