How Shifting to Customized Wound Care EMR Improves Efficiency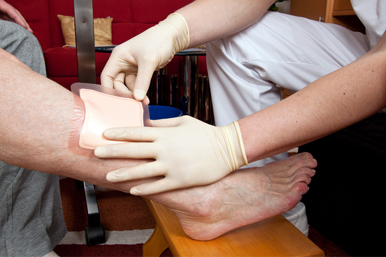 The case for a customized wound care EMR can be made without much effort, since its benefits to the patient and the practice are clear to see.
Wound Care EMR for Better Management
Wound management is a process requiring professionalism, dedication, constant observation and documentation. Technology helps here a lot though it cannot quite replace the dedication of the nursing staff. However, an electronic wound care solution can help in better documentation and treatment of the wound and makes the job of those professional and caring nurses a lot easier and, as a result, more efficient. The cost and labor savings can help improve the bottom-line of your practice, while the greater streamlining it offers ensures better documentation and management of the wound which in turn leads to more positive outcomes.
Wounds can be acute, chronic or surgical, and each of these wounds displays its own characteristics. Each wound needs to be managed in an individual manner. That's where the professionalism of the staff combines with the versatility and convenience of a wound EMR.
Advantages of Wound EMR
A wound EMR offers many advantages that really make it a compelling proposition, and take away the blues associated with thoughts about its introduction and the changes you'll have to make to accommodate it.
An efficient wound EMR facilitates more structured documentation. It guides nurses and other members of the healthcare team through a comprehensive and standardized wound assessment process. This structured documentation system is integrated into the nurse's workflow seamlessly. This eliminates the inconsistencies and gaps in wound care documentation which not only contributes to quality care, but significantly reduces the risk of a facility to regulatory liability since a clear and complete record is maintained of the things that are done.
A wound care EMR also contributes to cost-effectiveness. It eliminates manual paper processes, so when a wound assessment is completed at the bedside, the information flows to multiple reports. The data can be accessed online in real-time by the facility's clinicians as well as the administration staff.  This translates to greater cost-effectiveness since redundant compilation of manual reports and double-documentation can be avoided.
This also leads to labor savings. Thanks to the more efficient and automated workflow, faster care coordination, and better time management for clinicians and staff, it saves a good deal of time for nurses and the other staff.  Doctors, dieticians, physical therapists and other care team members can access reports in real-time at the touch of a button while the nurse takes much lesser time for completing her rounds and generating the reports.
There is also a significant reduction of errors. In a manual process the chances of errors are significantly higher because of the challenge of copying from handwritten charts without any means to block conflicting data. There really isn't a system in place. The structured documentation of a wound EMR helps reduce the chances of errors creeping into the documentation process which in turn reduces errors in medical decisions and administering treatment – a lifesaver for the patient and the healthcare facility, keeping it from malpractice and legal liability.
These advantages ultimately benefit the patient, through better quality of care and patient outcomes. Nurses need not immerse themselves in paperwork but can spend more time by the patient's side. The hours spent on a patient have been found to directly impact patient care quality. Surely your medical facility would want that.