Study Finds Salt Consumption Increases the Risk of Diabetes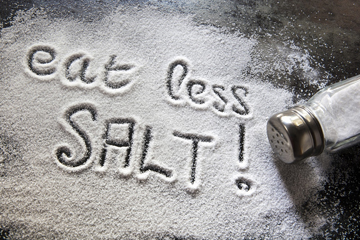 A recent study conducted by Dr. Bahareh Rasouli of The Institute of Environmental Medicine, Karolinska Institutet, Stockholm, Sweden and other teams from Finland as well as Sweden indicates that consuming large amounts of added sodium could contribute to diabetes development in some cases. The study presented at the annual meeting of the European Association for the Study of Diabetes and published in Diabetologia reports that, sodium intake heightened the risk of developing type 2 diabetes and latent autoimmune diabetes in adults (LADA). LADA is a form of Type 1 diabetes and individuals who are over the age of 30 are more likely to suffer from this condition. It occurs when the pancreas fails to produce enough insulin. This condition will develop more slowly than Type 2 diabetes. In fact, all types of diabetes affects wound healing. Wounds in diabetic patients tend to heal more slowly and can worsen rapidly. So, when a diabetic patient is injured, it is crucial to seek medical attention as early as possible to prevent the wound from getting worse. On admission to hospitals or other health care facility, providers must assess the wound properly and document it accurately to develop a suitable treatment plan that will help in wound healing. Wound EMR helps healthcare providers to complete the documentation tasks easily and accurately. This software also allows caregivers to quickly access patient data and find pertinent information.
For the study, the research team took data from a Swedish population-based study, where the researchers compared 335 cases of LADA and 1136 cases of type 2 diabetes with a matched group of 1379 individuals who acted as controls. The team asked the participants to record their dietary intake to determine the levels of sodium, calories and nutrients they consumed each day. Genetic predisposition to diabetes of each participant was also taken in to account. Participants were divided into high risk or other depending on their HLA genotype and the research team considered the differences in risk factors such as age, sex, body mass index, physical activity and potassium intake. The study participants were divided into groups based on their sodium consumption such as low consumption for fewer than 2.4 grams of sodium daily, medium consumption for 2.4 to 3.15 grams of sodium daily and high consumption for more than 3.15 grams of sodium daily. The researchers found that for every additional gram of sodium consumed daily, there was a 43% average increase in the risk of developing Type 2 diabetes. The group that consumed the most sodium each day, above 3.15 grams, had a 58 percent higher risk of developing Type 2 diabetes than the group with the lowest daily sodium consumption. In fact, patients with high-risk HLA genotypes with a high consumption of sodium were 4 times more likely to develop LADA than participants with low consumption of sodium.
There is a famous saying that goes "You are what you eat," which means to be fit and healthy you need to eat good food. By avoiding eating fast food or a diet heavy in red meat and processed ingredients you can reduce the sodium levels in your blood, thereby also lowering the risk of developing type 2 diabetes.