Researchers Find New Way to Heal Wounds without Scars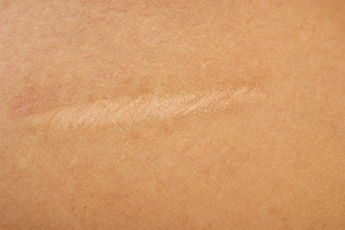 As your skin heals after an injury or accident, a scar may form. Scarring is a natural part of the wound healing process. Researchers at the University of Pennsylvania and the University of California have found a new way to make fresh wounds heal as normal, and manipulate wound healing so that it leads to skin regeneration rather than scarring.
As scar tissue lacks hair follicles and has no fat cells, it looks different from regular skin. The method involves transforming the most common type of cells found in wounds into fat cells, which was thought to be impossible in patients.
While scar tissue is made up almost entirely of cells called myofibroblasts that doesn't contain any fat cell, adipocytes are normal fat cells found in the skin. The research team found that existing myofibroblasts can actually be converted into adipocytes. As a wound is healing, scar tissue could potentially be converted to regenerated skin instead of scars.
The test was conducted in both mouse and human scar-forming tissue grown in the laboratory.The lead author of the study says, "Essentially, we can manipulate wound healing so that it leads to skin regeneration rather than scarring. The secret is to regenerate hair follicles first. After that, the fat will regenerate in response to the signals from those follicles."
The study showed that once the fats are converted, the new cells are "indistinguishable from the pre-existing fat cells, giving the healed wound a natural look instead of leaving a scar." However, the method will not work with existing scars. According to the team, the discovery has the potential to be revolutionary in the field of dermatology and could lead to brand new anti-ageing treatments.
The experiment is now at the proof of concept stage, and has been shown to work in mice and human skin samples. The challenge is now to achieve the same results in a living human being.
Wound Care Documentation
Timely and accurate wound documentation is crucial to improve operational efficiencies in any wound care setting. With a comprehensive wound EMR, wound clinics can not only document the physician's work and assessment data, but also monitor the work performed by all members of the wound care team, including nurses. Wound assessment templates in such specific EMRs help physicians enter their observations accurately and quickly. The EMR's 3D wound models can easily mark where the wound is located on your patient, allowing for accurate treatment and diagnosis of multiple wound sites. WoundWizard® is such a secure cloud-based EMR application. The software is versatile and can be accessed from any computer, tablet or mobile device.