Research Discovers Possibility for Faster Diabetic Wound Healing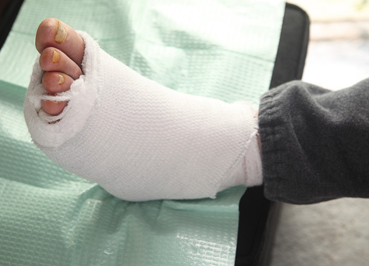 Chronic wound care management for diabetic patients has always been a tricky affair, on account of the significantly long period of time for wounds to heal.
Healing of chronic wounds has always been a tough and difficult process for diabetic individuals. The precise reason behind diabetic wounds failing to heal has not been fully identified, and there aren't many therapeutic agents that can facilitate healing. However, researchers at the University of Notre Dame could have hit the jackpot – discovering a compound that could accelerate wound healing.
A New Inhibitor for Enhancing Healing
The researchers had previously identified the MMP-8 and MMP-9 matrix metalloproteinases enzymes in wounds of mice with diabetes. They made use of the MMP-9 inhibitors known as ND-322 to accelerate wound healing in those mice, and it worked. However in the team's latest study, a better MMP-9 inhibitor has been discovered which the researchers called ND-336.
According to the researchers, ND-336 is a more powerful inhibitor than ND-322 by up to six times. The researchers combined a small molecule MMP-9 ND-336 inhibitor and applied MMP-8 enzyme, which further enhanced the healing process. The ND-336 compound can accelerate diabetic wound healing while the MMP-8 enzyme can accelerate diabetic wound repair.
Diabetic patients are currently being recruited by researchers for evaluating MMP-8 and MMP-9 levels in their wounds.
Wound EMR for Diabetic Wound Care Management
Dedicated wound EMR is of great help in effectively documenting diabetic wounds, which actually facilitates better wound care management. Dedicated EMR for wounds has customized, inbuilt wound care templates for recording various aspects of diabetes wound treatment. It helps doctors to diagnose and probe the wound more effectively, to come up with a treatment decision.
The EMR software integrates quantitative data including relevant clinical data and healing rates in real time, which results in the wound being evaluated quantitatively and objectively. Thanks to the automated alert system, physicians are notified if the wound displays a non-healing nature. Photo archiving is another feature of the system, which enables photos of the wounds before and after the treatment to be incorporated. The photos can help document the progress of the wound's healing at each visit. Customized reports help speed up the wound care procedures.
Separate Physician and Nurse Interface Helps
The wound EMR system supports separate physician and nurse interface for better communication for the respective professionals and quick patient information access that also improves wound assessment. It allows nurses to enter patient data with photos in their module, while physicians can make the required changes in their models. Connecting both models ensures effective note comparison which, in turn, ensures better outcomes since observations on the condition of the patient's wound can be made.
With effective wound EMR software and advancements such as the one made by the University of Notre Dame researchers, diabetic wound care management is set to see better times.