Mitochondria-targeted Antioxidant to Treat Diabetic Wounds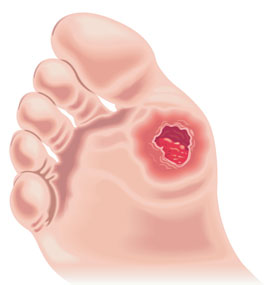 Diabetic wounds are often slow to heal and require medical attention and monitoring. Crucial factors that affect the rate of healing in a diabetic's fracture are blood glucose levels, poor circulation, diabetic neuropathy, immune system deficiency and infection. Diabetic patients often experience skin damage on their feet, which is called diabetic foot ulcer. Diabetic wounds are documented in clinics using advanced wound management software. According to a report from the American Diabetes Association, approximately 1.25 million American children and adults have type 1 diabetes and 1.4 million Americans are diagnosed with diabetes every year. A recent research report by the researchers at the Lomonosov Moscow State University found that mitochondria-targeted antioxidant SkQ1 can be used to treat diabetic wounds.
The study published in the Oxidative Medicine and Cellular Longevity journal, tested the mitochondria-targeted antioxidant SkQ1 on a mouse model of diabetes mellitus type II.
It has been found that in these animals, SkQ1 significantly –
Enhanced wound healing
Improved wound epithelialization and granulation tissue formation
Stimulated vascularization thus restoring disturbed blood circulation
The team used a wide range of methods such as molecular biological techniques, and biochemical, immunological and histologic approaches. The experiments on cell cultures showed that SkQ1 improves nearly all the major steps of wound healing. It is also proven that reactive oxygen species produced in mitochondria play an important role in pathogenesis of diabetic wounds.
It was concluded that the study is both scientifically and practically promising. Further study is critical to investigate the exact role of mitochondria and mitochondrial reactive oxygen species in all cell types responsible for diabetic wound healing. Dr. Roman Zinovkin, a senior researcher at the A.N. Belozersky Institute of Physico-Chemical Biology, a unit of the Lomonosov Moscow State University says that, "We assume that the results, together with the data proving the safety of local use of SkQ1, may help to create an innovative pharmaceutical drug-namely, a wound-healing gel based on SkQ1 for diabetic wound treatment."
The documentation of slow healing diabetic wounds should also contain parameters of wound healing such as wound localization, size of wound, degree of injury, infection, and wound morphology. Most wound care software for nurses also allows photographic documentation of wounds, which helps the physician to get a clear idea on the wound's healing process.