High Market Growth Expected for Advanced Wound Care by 2018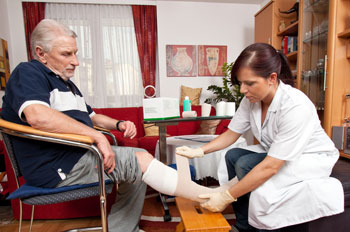 According to a new study by RNCOS entitled "Global Advanced Wound Care Market Outlook 2018," a higher market growth is expected for advanced wound care (AWC) therapies and products by 2018. If the global AWC market was worth US$ 6.8 Billion in 2013, it is estimated to grow up to US$ 9.1 Billion by 2018. Now, why is advanced wound care becoming popular? What trends and technologies are emerging in this field? How much more effective will it be if AWC is coupled with wound specialty EMR? Let's consider this in detail.
Though initially expensive, AWC products and therapies result in faster healing and shorter hospital stays, which in turn reduces the overall costs. As per the above mentioned study, increased life expectancy and rising lifestyle associated disorders (for example, diabetes) led to the increased prevalence of hard to heal wounds such as chronic foot ulcers. The burden of such wounds and improved understanding of wound healing resulted in the emergence of AWC.
The study explains about various AWC applications and technological trends that have been a part of this industry. The rise of Hyperbaric Oxygen Therapy, uptake of peptide bioactives and the emergence of smart dressings are some among them. It is expected that the numerous advantages provided by AWC over its traditional counterpart will drive advanced wound care market growth in future despite several challenges such as high cost of equipment, dwindling budgets, low awareness and reimbursement issues.
Wound EMR and AWC – A Perfect Blend for Quality Wound Care
There is no doubt that advanced wound care is a better care option for faster recovery. If the wound documentation process is more in line with the requirements, it leaves less chance for errors and provides better access to data for broader wound care analysis. This will help wound care physicians to provide patients with the best and safe AWC treatment and ensure fast healing. Wound EMR supports the following features that would help in more effective wound analysis.
Since the use of charts centralizes all information regarding the patients, it is easy for nurses, physicians and specialists to access the information they require in real-time and see relationships between the conditions and symptoms a patient showed. This will help them to create a more holistic healing plan.
There are separate templates for wound details in specialty EMR so that physicians need not spend much time for finding the template they require as in general EMR. Physicians can track the wounds easily with this and ensure whether the treatment heals them.
The ability to insert photographs and customized reports can further improve the assessment and quality of care.
So, if you are incorporating advanced treatment into your practice, ensure proper documentation with the support of a specialty EMR. This will bring you the benefits that you expect.