Global Advanced Wound Care Market – Key Growth Factors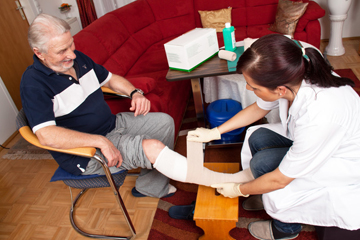 Wound care consulting, especially that of chronic wounds, has enormous social and economic implications worldwide. According to the latest report from Data Bridge Market Research, the global advanced wound care market is expected to reach USD 22,088.6 million by 2024 from USD 11,683.5 million in 2016, growing at a CAGR of 8.4% during the forecast period 2017 to 2024.
The report discusses some of the major factors that drive the growth of this market such as the following.
Rising incidence of chronic wounds
The most common types of chronic wounds are infectious wounds, ischemic wounds, radiation poisoning wounds and surgical wounds. Ulcers are the most common type of chronic wounds; some of the most common types of ulcers are arterial ulcers, venous ulcers, diabetic ulcers and pressure ulcers.
Technological advancement
The increasing occurrence of chronic wounds has driven demand for products which better enhance the quality of life and limit the risk of more serious health problems. As a result, treatment and management is moving from traditional wound care products to more advanced offerings which provide an optimal healing environment.
Just like the availability of woundcare EHR systems to improve documentation, advanced technologies in wound care include foam, alginates, gelling fibrous dressings and anti-infective substances such as silver. Continuous advances made in the study of the wound, an ever-broadening understanding of the path physiology of wounds, and advanced technology in monitoring the response of healing have led to continuous developments in the treatment of different types of wounds.
Government support
Another factor that supports the market growth is government assistance. Governments of every region provide support in the form of funding for advanced wound care development, innovations and helps in increasing the trend towards preventive healthcare.
Rising geriatric population
There is a strong correlation between age and the incidence of diseases requiring wound products. Diseases that compromise skin integrity such as diabetes, skin breakdown with ulcer and chronic wound formation are frequent occurrences with the aging population. The types of wounds that affect the elderly include pressure ulcers, surgical wounds, venous ulcers, traumatic wounds, arterial wounds, diabetic ulcers and chronic ulcers.
Certain factors that may hinder the growth of the market are high cost of advanced wound care, low awareness especially in underdeveloped countries, shortage of trained staff and facilities in some regions, complex regulatory approval process, reimbursement concerns for new technologies, and competition with other moist dressings.
Some of the prominent wound care product manufacturers mentioned in the market report include 3M, Smith and Nephew, Medtronic, Acelity L.P. INC, Molnlycke Healthcare AB, Convatec Inc, and Baxter among others.