Gene Therapy Works for Wound Healing of Blistering Skin Diseases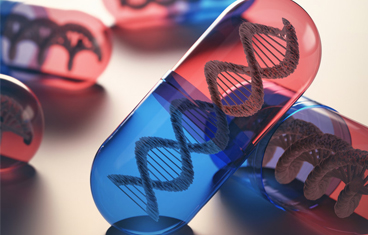 Skin diseases are common. Wound healing is hard for blistering skin diseases. Epidermolysis Bullosa is such a disease, where patients experience intense pain throughout their lives. No effective treatments were available to reduce the severity of their symptoms. The most severe form of this disease is Recessive Dystrophic Epidermolysis Bullosa (RDEB), which often includes chronic skin blistering, open and painful wounds, joint contractures and other serious conditions. With this recessive condition, patients will not be able to produce a protein that binds the upper and lower levels of skin together. Left untreated, autoimmune blistering diseases can eventually cause life-threatening complications.
Gene Therapy for Recessive Dystrophic Epidermolysis Bullosa
A recent report published in JAMA will be a great relief to patients with this painful condition. According to the recent study done by researchers from the Stanford University School of Medicine, gene therapy shows promise in treating a genetic skin disease, Recessive Dystrophic Epidermolysis Bullosa that causes blistering. The report includes the phase 1 clinical trial of the study.
The phase 1 trial reports the case of 4 patients with severe RDEB. The researchers applied Type VII collagen gene–corrected grafts of the patients' own genetically corrected skin to open wounds caused by the disease. Wound healing was assessed using serial photographs taken at 3, 6, and 12 months after grafting. The result is that the grafts improved wound healing and seemed to be well-tolerated.
According to the co-senior author, "Our phase 1 trial shows the treatment appears safe, and we were fortunate to see some good clinical outcomes. In some cases, wounds that had not healed for five years were successfully healed with the gene therapy. This is a huge improvement in the quality of life for these people." The team further plans to evaluate the therapy in patients aged 13 and older, so that they will be able to prevent the development of serious chronic wounds and scars in children.
Skin Disease Documentation with Wound EMR Software
Perfect documentation is an essential component of proper disease management. While assessing patients with a skin condition, nurses must make sure to obtain a detailed dermatological history as this may provide clues to diagnosis, management and nursing care of the existing problem. Wound assessment should include the history of the patient's skin condition, skin biopsy results if done, general assessment and specific skin assessment. Wound specific EMRs play a key role in assisting nurses to document all the assessment details in a comprehensive and systematic manner. Advanced software will include separate interface for physician and nurses, which allows quick access to patient information and improved wound assessment.