Expressing Oneself – Is It Connected to Wound Healing?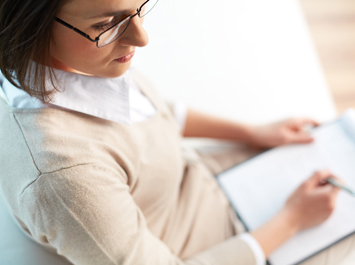 A pen and paper, a journal or a diary, is it someway related to your health or wellness? Yes, says a recent report published in the American Psychological Association. This study was actually conducted to investigate whether pre-surgical expressive writing intervention could improve surgical wound healing.
Seventy-six patients undergoing elective laparoscopic bariatric surgery were chosen for the study. They were randomized either to write emotionally about traumatic life events (expressive writing) or to write about how they spent their time (daily activities) for 20 min a day for 3 consecutive days beginning 2 weeks prior to surgery. Tubes with hydroxyproline deposition, a major component of collagen and marker of healing was inserted into separate laparoscopic port sites during surgery and removed after 14 days.
Key findings of the study include:
Patients who wrote about daily activities had significantly more hydroxyproline than did expressive writing patients.
Perceived stress significantly reduced in both groups after surgery.
Expressive writing prior to bariatric surgery was not effective at increasing hydroxyproline at the wound site 14 days after surgery.
Writing about daily activities did predict such an increase in hydroxyproline.
The study concluded that expressive writing prior to bariatric surgery was not very effective at faster wound healing, while writing about daily activities did predict such an increase. At the same time, a study conducted by the University of Nottingham found that expressive writing can improve healing if it is performed prior to wounding. Performing expressive writing after wounding may be able to improve healing depending on the timing of writing and wound assessment. As confusion exists, further research is critical to determine the clinical relevance of these findings.
Not only writing, clear wound assessment and accurate documentation too play a critical role in faster wound healing. Error-free records of a wound enable its progress to be determined so the appropriate treatment can be applied. Wound clinics can document every assessment using a wound EMR that features nurses' as well as physician module so that the entire healthcare team can record and document findings, resulting in better treatment and outcomes.