Documenting Wound Pain to Ensure Quality Care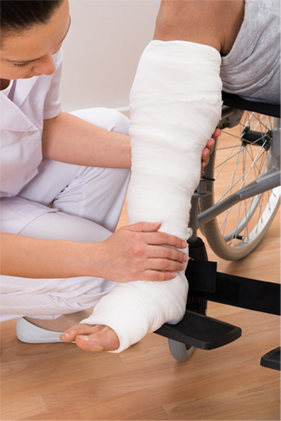 Wound pain is a vital sign that indicates the status of the wound that is being treated. Therefore, this factor has a strong impact on the patient's quality of life. It is very important to document wound pain at each visit to provide appropriate medications, dressing or other treatment. Patients may sometimes mistake the "rest pain" caused by critical limb ischemia (CLI) as wound pain. CLI is a severe obstruction of the arteries which reduces blood flow to the hands, feet and legs and causes severe pain. This pain may make you wake up at night and hence the name "rest pain". At the same time, neuropathic 'non-painful' wound can become painful when it gets infected. With accurate documentation of wound pain, physicians can understand what actually causes the pain and plan strategies to reduce the pain. Let's see how to document pain and why wound EMR is a good option for effective documentation.
Nurses must assess and document the wound pain of patients during initial nursing evaluation and all follow-up visits. The following details should be included while documenting pain assessment.
Rating of pain using a standardized pain scale (either verbal or non-verbal)
Location, type and quality of pain
History of pain (24 hour recall or pain since last nursing visit or therapy visit)
Even if you document 'no pain at present time,' document a history to determine whether the patient truly has no pain or the patient's pain is well controlled with the regimen prescribed
Specific medication(s) taken, how often the patient took each medication and the effectiveness
Consistently assess and document whether the patient is satisfied with the level of pain control
Coordinate with the attending physician and interdisciplinary group
Patients' and caregivers' education and level of understanding regarding pain and symptom management and the medication regimen
Non-pharmacological methods of pain control and the effectiveness of ice, heat, TENS, massage, medication
Physician orders for ice, heat, TENS, ultrasound, massage or other modalities used for pain management. Orders must include the location, frequency of use, length of use and settings if applicable
The goal for pain management should be measurable. For example, if the patient's pain is at an acceptable level, state the pain goal as '2' on a 1-10 scale instead of stating 'pain at acceptable level.'
How Wound EMR Is Critical for Pain Documentation
With the Affordable Care Act (ACA) and meaningful use, most of the hospitals and wound care clinics are transitioning from paper charts to electronic health records. General EMR may include templates and data that are not applicable to wound care. Nurses may lose valuable time searching for wound care templates in which wound pain details are to be entered. Physicians may also find it difficult to retrieve the details of pain assessment within general EMR. This is why woundEMR is a better choice for pain documentation.
With specific wound care templates, you can document pain assessment within seconds. This system facilitates the documentation of current pain level, changes in pain levels and pre-/post-procedural pain. Once the data entry is complete, you can generate customized reports such as prescriptions, nursing notes, and physician orders automatically. It is also easy to retrieve the wound pain details since this system supports only wound care templates. If the wound care EMR is supported with an interface for nurses and physicians, the documentation process can be further expedited.