Documentation and Treatment of Gunshot Wounds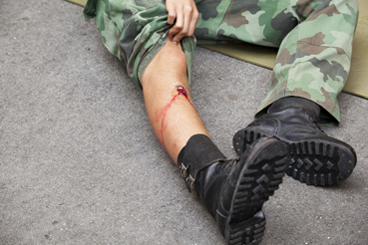 Gunshot wounds are one of the most traumatic injuries a person can suffer. There are different gunshot wounds depending on where the person is hit, e.g. the head, abdomen or limbs (legs or arms). For these different areas, different procedures are needed and there should not be any mix-up in the treatment because there is the risk that the victim's condition may worsen.
Certain factors that determine the extent of damage caused by a gunshot wound include the caliber of the gun, size and speed of the bullet, and site of the injury. Injuries may be either internal or external involving heavy bleeding/blood loss, injury to vital organs, broken bones, infection, or paralysis.
According to a research letter in the Journal of the American Medical Association, based on the increasing severity of gunshot wounds and the increasing number of patients shot multiple times, patients are now more likely to die from a gunshot wound than they were even 10 years ago. The research was based on the review of the nature of gunshot wounds in patients at Denver's largest trauma center, between 2000 and 2013.
Often surgery is recommended to remove the bullet's pieces and the broken bones, or they can severely damage nearby tissues and/or organs.
Documentation Plays a Key Role
It is often reported that clinical charts routinely lack adequate descriptions of gunshot wounds. While treating gunshot wound victims, rapid patient assessment to identify life-threatening injuries and documenting them is essential. Emergency clinicians or nurses should record the gunshot appearances before they are altered by surgical intervention or the healing process. Assessment should begin with visual inspection.
Proper documentation of a gunshot wound includes the anatomic location, size, shape, and characteristics of the wound. For a gunshot injury, it is advised that the clinician does not document the wound as an entrance or an exit because reports show that clinicians have mistaken entrance and exit wounds up to 50%. Documentation should include other characteristics of the wound including burns, bruising, abrasions, or soot around the wound edges. Surgical procedures such as drain sites should also be recorded. Well measured, photographed and accurately described records can assist in post-surgery treatment as well. Wound image documentation can provide a clear picture of the wound and the presence or absence of soot deposition in or around the wound. It can also preserve the initial integrity of the wound in case of interruption by surgical procedures and interventions. Implementation of an easy-to-use, wound-specific EMR can make the documentation process simple and easy for the clinicians.
With wound-specific templates, wound EMR allows nurses to add photographs and wound details easily without searching through different templates. Physicians can also easily track wound type, complications, measurements and other details. Equipped with an interface to connect physician and nurse module, wound EMR allows seamless communication and ensures the highest level of care. This will improve the communication with referring physicians as well and facilitate healing.