What Are the Different Types of Wound Dressings?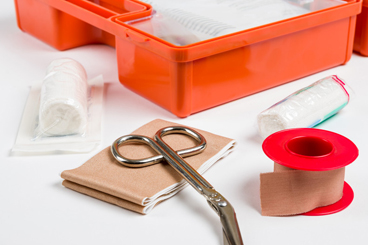 Dressings are designed to be in direct contact with the wound, which is different from a bandage that holds the dressing in place. The right dressing type that suits the conditions of a patient's wound is crucial for faster wound healing. There are a variety of options when it comes to dressings, and to determine which is the best and most effective, you need to have a clear idea about the type of wound your patient has.
Inappropriate wound management can lead to delayed healing, deterioration of wounds and wound breakdown. Make sure to consider healing properties of each dressing, before choosing one. Along with reducing the risk of infection, the dressings of your choice should also be able to stop bleeding and start clotting so the wound can heal; absorb any excess blood, plasma or other fluids; facilitate wound debridement, absorbing excess exudates without leakage to the surface of the dressing and begin the healing process. Wounds should be carefully reassessed with every dressing change to ensure that the products used are most appropriate.
Wound Dressings – Types
No single dressing is suitable for all types of wounds. Often a number of different types of dressings may be used during the healing process of a single wound. Some of them are:
Film – Highly elastic and conformable to body contours, they are suitable for primary or secondary dressing. The adhesive coating in this dressing reacts with wound exudate to prevent adhesion to the wound bed, while allowing the film to stick to the dry skin surrounding the wound. The transparent quality of film dressings allows visualization of the wound.
Moist – Moist dressings can be divided into two groups – Hydrogel and Hydrocolloid dressings. These dressings accentuate the body's process of ridding itself of dead tissue. Hydrocolloid prevents the normal daily evaporation of moisture from the skin. Hydrogel that generally contains between 60-70% water, is applied to wounds containing necrotic or dead tissue.
Foam – Generally useful for pressure ulcers in the early stages, they protect the entire area from being rubbed further. Most foam dressings are available in bordered or non-bordered formats. Non-bordered formats are used if the patient has skin sensitivity to adhesives. This dressing type indicates when they need to be changed through the spreading discoloration that appears on the dressing.
Absorbent – Designed to absorb exudate while minimizing adherence to the wound bed, these multi-layer dressings comprise either a semi-adherent or a non-adherent layer, combined with highly absorptive fibre layers.
Collagen – Available in the forms of pads, gels or particles, this dressing promotes the deposit of newly formed collagen in the wound bed. It also helps to prevent your skin from scabbing as it maintains a moist setting.
Wound care doctors and nurses must be careful enough to select a dressing that is sterile, non-toxic and non-allergenic.
Clear Documentation Is Crucial
All aspects of care, including assessment, treatment and management plans should be documented clearly and comprehensively. A wound assessment must be made and accurately recorded at every dressing change: the size of the wound, its depth, color and shape, as well as the condition of the surrounding skin, should all be documented. This information indicates the stage and progress of the wound and is vital to ensure that the next clinician caring for the patient selects an appropriate dressing. As clear and accurate nursing documentation is essential in wound management, wound clinics can consider implementing a wound specific EMR that helps with better clinical documentation. Wound assessment templates such EMRs will assist nurses and physicians in entering their observations accurately and quickly, thus resulting in effective treatment decisions and quality wound care.