Diabetic Foot Ulcer Prevention – Tips to Consider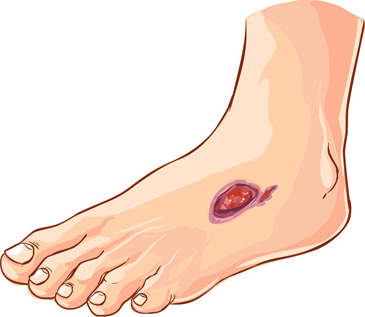 Because of less blood flow to affected areas and reduced white blood cell function, people with diabetes often heal more slowly than normal. Diabetic foot ulcers (DFU) are the most common reason for hospital stays among people with diabetes. These complex, chronic wounds can have a major long-term impact on the morbidity, mortality and quality of a patients' life.
Proper wound care and prevention of foot ulcers can help diabetic patients avoid serious complications. Those with diabetic neuropathy may not notice injuries right away. Often, nerve damage can numb sensations and pain. Left untreated, these ulcers can lead to amputation or death.
A foot ulcer is prone to infection, which may become severe. Make sure to take preventive measures, such as:
Check your feet – Thoroughly check your feet daily for any cuts, blisters or other pre-wound symptoms. Make sure to get your feet examined by a doctor, at least once in a year. If any problems are detected, then more frequent feet examinations will usually be recommended.
Take measures to control diabetes – The better you control your diabetes, there are fewer chances for you to develop complications such as foot ulcers.With a high blood glucose level, foot ulcers will not heal quickly.
Keep your legs clean – Daily cleaning is as important as checking your feet daily. Make sure not to use soaps that make your skin dry. Wearing proper footwear is crucial to reducing the risk of an injury that can lead to ulcer formation.
Consider proper treatment – It is now recommended to cover the wound with a protective dressing. In case you develop a foot ulcer, consult a physician and get the wound properly dressed.
Accurate Assessment and Documentation Is a Key Factor
Perfect wound assessment and documentation is a key factor for treating a diabetic wound.For better planning and evaluation of care, it is crucial that the wound assessment includes full patient history including medication, co-morbidities and diabetes status. Nurses should also record the size, depth, appearance and location of the DFU, which will help to establish a baseline for treatment, develop a treatment plan and monitor any response to interventions. Digitalphotographs of DFUs during each consultation will help to document the progress of wounds as well. Using a wound-specific EMR will help to streamline the documentation process in any wound clinic. The 3D wound models in such software make it easy to create and view wound sites. Such software can also be accessed from any computer, tablet or mobile device.