Delay in Chronic Wound Healing – Opioid Intake Is a Deciding Factor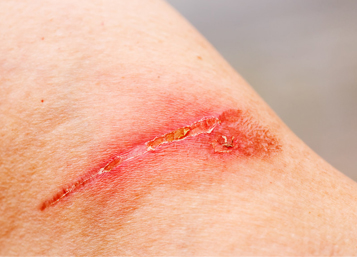 Chronic wounds such as diabetic foot ulcers and venous ulcers present a major public health problem. Such wounds often fail to heal even after three months of appropriate wound care. Several reports indicate that approximately 6.5 million people in the U.S. experience chronic wounds. It is a fact that opioids have been regarded for millennia as the most effective drug for the treatment of pain caused by chronic wounds. According to a new study by George Washington University (GW), patients with chronic wounds who never receive opioids heal faster than those who do receive the drugs.
Published in Wound Repair and Regeneration, the report suggests that opioid exposure is associated with reduced likelihood of healing in patients with chronic wounds. Though opioid analgesics are commonly prescribed to patients with chronic wounds, there has been no evidence or studies that determine the relationship between opioid treatments and wound healing.
The research team considered details of 450 subjects enrolled in the WE-HEAL biorepository. Data was collected using baseline characteristics, such as pain score, longitudinal opioid exposure, and total wound surface area. The team found that opioid dose was found to be significantly associated with total wound surface area.
According to the lead author of the study, "Finding ways to improve healing of chronic wounds will have an enormous effect on patients and the healthcare system."
Perfect Documentation of Chronic Wounds Plays a Key Role
Proper documentation is important in effective wound care. The comprehensive assessment should include wound location, size, depth and condition of the surrounding skin. It is important for nurses to record the wound in centimeters.
Accurate and regular wound assessment with comprehensive wound EMR tools can help to ensure the correct treatment as soon as possible.  When performing wound assessment, nurses should evaluate the patient systematically and holistically, rather than focusing only on the wound. Maintaining error-free records also ensures good communication between healthcare providers, enabling the wound to be monitored for healing or for the development of complications. These assessment details also help in choosing the right dressing type that suits the wound condition.