Cigarette Smoking Negatively Impacts Wound Healing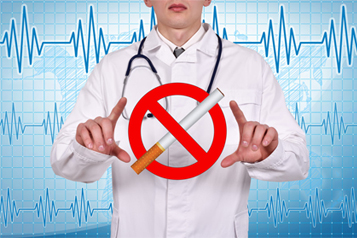 A recent study by researchers from the Ohio State University College of Nursing found that cigarette smoking drastically affects wound healing. According to the research, the association between smoking and wound problems is discussed very rarely during the doctor visits chronic wound patients frequently have. Some smokers won't listen to health warnings from their doctors. Non-healing wounds including pressure ulcers, venous leg ulcers and diabetic foot ulcers affect 6.5 million people in the United States and cost the healthcare system a lot. In such a scenario, it is very important to focus more on the smoking habits of patients with wounds.
Chronic wounds share common characteristics of inflammation and reduced blood flow that make them particularly vulnerable to different toxic chemicals found in cigarette smoke. The chemicals impact the production of collagen, a protein that is significant for the wound repair process. Chemicals like carbon monoxide with cigarette smoke reduce blood flow to the wound while preventing the natural anti-inflammatory and anti-bacterial mechanisms of the skin. Nicotine, a chemical in cigarette is also connected with reduced blood flow. The vascoconstructive properties (narrowing of an opening of a blood vessel) of this chemical are amplified when paired with the chemicals in cigarette smoke including carbon monoxide and cyanide. In short, with these chemicals wounds are more likely to get infected and less likely to heal.
As per one of the study authors, even one cigarette can reduce blood and oxygen flow to the tissues while a pack a day can cause significant and prolonged oxygen deprivation to the tissues. In the opinion of the researcher, smoking cessation should be a priority topic during clinical visits. There is evidence that smokers are more successful in quitting their smoking habit with repeated personalized messages that urge them to quit along with appropriate assistance in their attempts to leave the smoking habit. Since clinicians regularly meet their patients, they have better opportunities to give consistent and personal messages about quitting smoking. The researcher also added that nicotine replacement drug therapy has a critical role in smoking cessation treatment.
However, clinicians get very short time to spend with their patients and they are more concerned about what they can do within that limited time. Wound care physicians may not be very sure about when or how to bring up the matter of smoking cessation. The researchers say that smoking cessation guidelines could be added to the appendix of the existing evidence based guidelines for wound care and thereby healthcare providers would have a foundation for what to say, when and how.
Nurses should gather all information about the patient's smoking habit when preparing his/her health history during wound assessment. This will ensure that wound care physicians clearly understand the actual condition of the patient and plan the smoking cessation program more effectively. Rather than a general EMR, wound EMR with wound-specific templates can help nurses enter the data quickly as there is no need to search for wound care templates. If the wound EMR is supported with an interface for physicians, wound care physicians can easily access the patient's history report and take appropriate treatment decisions very quickly.