Accurate Documentation Is Key to Quality Wound Care Management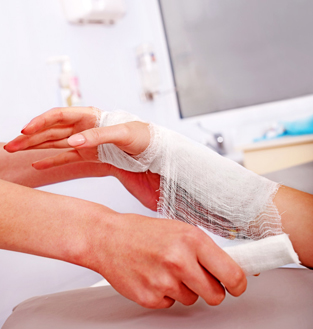 Inappropriate management of wounds and poor wound documentation can lead to delayed healing, deterioration of wounds and wound breakdown. Constant monitoring is important for acute and chronic wounds. Proper documentation is crucial, especially in wound care clinics and nursing facilities to provide guidance for appropriate treatment decisions, to evaluate the healing process, support reimbursement claims and as a defense for litigation. For quality wound care, all aspects of care, including assessment, treatment and management plans, implementation and evaluation should be recorded clearly and comprehensively.
Wound assessment helps to track the progress in healing and to apply important therapeutic options. Assessment of a wound must include location of the wound on patient's body, measurement, depth of injury, tissue type present, presence or absence of necrosis, evidence of possible infection, amount of drainage coming from the wound and nature of the dressing needed.
Nurses who are responsible for documenting patient care details should also make sure that the body of documentation describes every aspect of the procedure including anesthesia, provides details regarding preoperative and postoperative diagnosis, correct patient, limb and procedural verification. With poor records, the provider's reimbursement for the treatment provided will also be in question.
Why not consider electronic documentation? With a standardized documentation tool like wound EMR, the patient's data can be accessed online in real-time by the facility's clinicians as well as the administration staff. By ensuring that patient information is kept confidential, facilities can also abide by HIPAA rules and guidelines.
Wound Specific EMR – Advantages
Designed as per the workflow of the practice, this specific EMR can help facilities to
Reduce errors in medical decisions and administer the right treatment with its structured documentation
Support the facility with a paperless solution. It features the entry for each resident with details such as medication list, progress notes, and reports on wound care.
Save time on compiling manual reports and avoiding double-documentation
Improve communication with an interface for physicians. Wound care professionals will stay up-to-date with the patient's current condition.
Avoid confusion with the physician's notes correctly and promptly entered into the EMR database.
Make a more accurate diagnosis, faster with automatically updated patient information.
Upload a digital image of the wound as well. This helps in efficient wound assessment as physicians can see the wound.
Mobile EMR is yet another perfect option to access data quickly from the patient's bedside. It helps the wound care team to quickly view wound images and carry out proper assessment and diagnosis much faster.